Lawchic
Newbie Poster
Username: Lawchic

Post Number: 4
Registered: 10-2004


Rating: N/A
Votes: 0 (Vote!)
| | |
| --- | --- |
| Posted on Saturday, October 23, 2004 - 11:28 pm: | |
---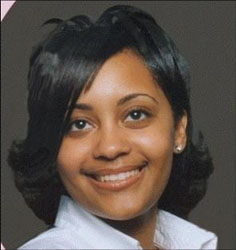 Where is Tamika Huston? Sheís been missing from her home in Spartanburg, SC for months, but Oct. 23 was the first time I heard about it. If sheís missing, why donít I see her name on television every night like I see the names of Laci Peterson, Lori Hacking, Chandra Levy, Brooke Wilberger or Dru Sjodin? I canít distinguish any significant differences in the women. The only one that is obvious is on the surface. Skin color. Tamika Huston is African-American.

Some might blame Tamikaís exclusion on a heavy news cycle when she went missing in late May or early June, but that doesnít excuse the mediaís neglect in not carrying her case since then.

The frustration level rises when you learn that Tamikaís aunt is a public relations executive and has made a Herculean effort to get her nieceís story to major media outlets with few results.

This young woman's story is heartbreaking, but what is even more compelling is that she is not the only one. Each year, hundreds of thousands of adults and juveniles are reported as missing and very few receive major media coverage.

Iím not suggesting that these women didnít deserve to have their stories told. What I am suggesting is that they ALL deserve to have their stories told. The problem is there are so many stories and only so much coverage available. So, that logically leads to my second suggestion - that the media should focus on cases that they can actively aid in solving, not cases where the sole criteria appears to be that the missing person is young, white, female, middle to upper class, and therefore newsworthy. Letís focus on helping and not participating in morbid voyeurism. Thereís very little someone on the East Coast can do to help in a missing personís case that occurred on the West Coast, but Iíll bet there is a lot of help that could be generated by regional media working together to saturate markets that are adjacent to areas where there are active missing persons cases.

Please see www.tamikahuston.com and spread the word until she returns to her family.


Kola_boof
"Cyniquian" Level Poster
Username: Kola_boof

Post Number: 283
Registered: 07-2004


Rating: N/A
Votes: 0 (Vote!)
| | |
| --- | --- |
| Posted on Sunday, October 24, 2004 - 07:10 pm: | |
---
This is SO heartbreaking.

Thanks for posting this.

And she is so beautiful. I will be praying, mightily for her.