Mzuri
"Cyniquian" Level Poster
Username: Mzuri

Post Number: 4549
Registered: 01-2006


Rating:

Votes: 1
| | |
| --- | --- |
| Posted on Tuesday, April 17, 2007 - 08:08 pm: | |
---

I watched most of Oprah today and there were some valid points made. Russell Simmons and Dr. Ben were basically bragging about how they were the HNICs of the Hip-Hop Summit and some other fluffy sounding organization. And placing the blame (of the misogyny/degrading women) on the rappers who supposedly originated from abject poverty. Whatever.



Stanley Crouch was there and that man needs to put a bag over his head. Just sayin.

Anyway, my thoughts are that the current culture of the video booty shaking and tittie swinging would not exist if it weren't for the WOMEN! The women who all want to be the next superstarcelebritymillionaireho.

Trollops such as this: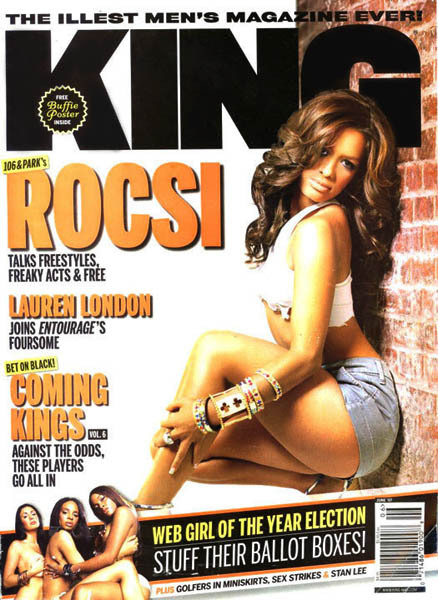 who think that it's wise to let every man on the face of the earth see their nipples, ass crack and everything else. Sadly, mystery, modesty and discretion are no longer in vogue.

If they weren't up in there clapping their butt cheeks and simulating oral sex then the rappers wouldn't have anything to reference about who is a b-itch and a ho, and then that way they could write and sing about other interesting topics such as money, cars, gold, diamonds, clothes, love, marriage, etc.

As to the assertions that this booty shaking and ho calling is what the consumer wants - research has shown that people will buy anything. So if everyone produced "nice" music, people would buy it, just as they will watch "nice" videos. If that's all there is, then people will consume it.

But I digress. Hip-hop and dirty talking rappers are not to blame for our culture of bad manners, no consideration and lack of common courtesy. Just as guns aren't responsible for killings, and love songs don't keep marriages from breaking apart.

Our entire society is all fukced up. I'm sure there was a point when it started going downhill but I don't know what it is. It can never be repaired and things will just keep getting worse.