Tonya
"Cyniquian" Level Poster
Username: Tonya

Post Number: 5134
Registered: 07-2006


Rating: N/A
Votes: 0
| | |
| --- | --- |
| Posted on Friday, April 13, 2007 - 01:38 am: | |
---
BlackAthlete Sports Network-www.blackathlete.net

AllSports
My Conversation With Jesse & Al BeforeThe Imus Beatdown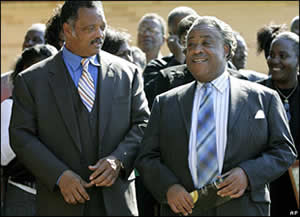 By Dr. Boyce Watkins
Apr 13, 2007

NEW YORK -- The phone rang on a Sunday morning, the way it normally does. It never stops ringing and my e-mail stays full. I am going to be apologizing to people for the rest of my life, I know it.

I knew that I was set to appear on Rev. Jesse Jackson's radio show, "Keep Hope Alive". I didn't want to wake up so early, since this was a rude interruption to my dream about having Beyonce's baby.

But for Jesse, I was willing to make an exception, especially since his daughter Santita (also a radio show host), is as sweet as chocolate covered, sugar flavored, barbecue ribs.

Don't get it twistified: By "sweet" I mean she is a kind person. I am NOT about to flirt with Jesse Jackson's daughter. He's taller than I am and looks like he might know karate.

I do most of my radio interviews in my office with no shirt and a bowl of Cheerios. I usually surf the web, watch SportsCenter or get more cereal during the marathon commercial breaks.

I swear that radio commercials are longer than Rush Limbaugh's list of prescription drugs. But as a finance professor, I know that media must also pay the bills, because that is why they exist. "It's all about the Benjamins, baby…all about the Benjamins".

We were gathering to discuss some old white dude named Don Imus, the nappy headed hoe who felt the need to attack some black student athletes. I personally wanted to slap him because I am a strong defender of college students and take great offense when they are being exploited or mistreated (i.e. the pimps from the NCAA parading them on TV and letting their mamas live in poverty).

The other guests on the show with me were Al Sharpton and George Curry, head of Black Press USA. I've been on shows with Al before, it's always interesting.

We talked about the Imus situation quite a bit. I had no idea that Imus would be the lead story in the entire country during the following week, but I knew that millions of black people listening were…for lack of a better word….PISSED.

Jesse mentioned that his group was going to boycott the NBC studios in Chicago. Sharpton mentioned that his group was calling for Imus to be fired. I mentioned that my group (consisting of me, my teddy bear, and a bunch of very angry cock roaches) were aiming for something a little different:

We wanted his corporate sponsorship.

As a "money guy", one thing I know for certain is that corporate sponsorship is the lifeblood of any celebrity personality. Many celebrities would rather have their testicles yanked out of their ears than to lose their corporate sponsors.

The celebs gets money from the network, the network gets money from the sponsors, the sponsors get money from the customers, and customers get their crappy content from the celebrity.

It's all a vicious circle-cycle. If you cut off one part of that circle, it's like cutting the intestines inside your body….messy, uncomfortable and humiliating, to say the least.

So, I proposed this: Why don't we find a list of the companies that advertise on his show and ask them if they know what they are supporting?

Then, we can ask the black community if they know they are supporting corporations who are supporting networks that are supporting nappy headed hoes like Don Imus.

The guys listened respectfully, and I think they agreed. That was my contribution to black history….at least for now.

You can imagine how I felt a couple of days later after hearing that many major corporations were cutting their sponsorship of Imus' Show. When the money stops coming, it's like cutting off the water supply to the human body.

Your rep, power, platform and mojo are going to die a slow, painful death. Your homeboy becomes your hater, people stop returning your calls, and unconditional support becomes a little more conditionalized.

We all think that white men stick together like super glue, but like most humans, they too abandon one another when you change from rain maker to pain maker.

One of the things that irked me the most about Imus' "apology at gunpoint" was that he explained his actions by stating that people in the black community (mostly rappers) were the ones to put that language out there, and that he was simply repeating it.

I again wanted to go to his studio and slap him.

First of all, Imus is NOT a rapper. He is a man who regularly hosts some of the leading political dignitaries of our nation. Had Senator Obama made a similar statement, we would be hanging him out to dry as well.

Secondly, it's a really bad excuse to say "others have done worse, which is why my actions are ok." That's just, as my homies would say "ig-nant".

I am not sure why Imus feels that the Rutgers women's basketball team should be the victims of his verbal assaults just because there are some black people who use this language.

Had it even been Tom Joyner making this statement, the outrage against such sexism would have been tremendous. Imus received a greater degree of outrage than Tom Joyner would receive because his comments were both sexist AND racist.

OK, that's my two cents. It'll be easy to find another 98 cents worth of opinions, and in the end, we have a dollar. But it's having that dollar that led to us achieving something that we could not have accomplished 10 years ago.

Don't get it twistified. A love for black folks is not what led to MSNBC cutting off Imus: This was all about the Benjamins.


Dr. Boyce Watkins is a Finance Professor at Syracuse University, author of "What if George Bush were a Black Man?" and host of the radio show "Boiling Hot with Boyce Watkins". For more information, please visit www.boycewatkins.com or www.yourblackworld.com.





© Copyright 2005 by BlackAthlete Sports Network

http://www.blackathlete.net/artman/publish/article_03168.shtml