Kola
Moderator
Username: Kola

Post Number: 2666
Registered: 02-2005


Rating: N/A
Votes: 0
| | |
| --- | --- |
| Posted on Tuesday, January 03, 2006 - 06:10 pm: | |
---
A friend of mines has been trying to get me to eat--try CAVIAR.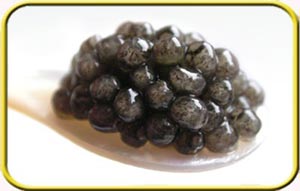 I'm just too squeamish. Has anyone had it???

I would love to hear from Cynique if she's had it before.

Here's an interesting article:


Fresh caviar, the real stuff, is wonderful in taste, an international symbol of luxury — and really not so expensive. An ounce of Sevruge caviar costs $17.50. An ounce of American sturgeon caviar from Tennessee, harvested and packed by newly arrived Russian immigrants, and delicious in its own right, is only $13. An ounce of caviar will do two people as a romantic appetizer — or late-night treat before bed. In my experience, which involves decades of random sampling, caviar never fails.

So first of all, everybody can afford fresh caviar. But make sure you get real fresh caviar. That means avoiding all the little cans and jars you see piled on supermarket and Gourmet Shoppe shelves. Fresh caviar is always refrigerated. Anything else is junk. It's either whitefish roe dyed black (tastes like salty cod-liver-oil beebees) or real caviar that's been killed by cooking. Cooked caviar is like canned oysters — not worth whatever it costs, and it often costs more than fresh caviar.

Fresh caviar comes from three different species of sturgeon found in the Caspian sea — Sevruge, Ossetra and Beluga. Russia, newly independent Azerbaijan and Iran are the only producers. Iranian caviar, thanks to our bipartisan anti-romantic foreign policy, is unavailable in the United States. American caviar comes from a smaller sturgeon found in Tennessee. Joel Assouline, CEO of Assouline & Ting, always begins talking about caviar with a little political morality.

"Of course there are other considerations in life," he says. "But for caviar, the Communists were wonderful. They made sure there was no overfishing, no taking the Beluga too soon so the eggs are not large enough, no improper handling. The fall of Communism meant that all sorts of little entrepreneurs got into the business — and caviar is being overfished. There is a real danger that, if everything is just left to the work of unregulated market forces, the Caspian sturgeon will become extinct."

So, I suggest, all romantics everywhere should hope for the re-establishment of socialism and the USSR? Joel doesn't want to agree entirely, but he admits it would be better for caviar. Think about that.

Though you can buy caviar by the ounce and enjoy it, the best way to introduce yourself to caviar is to buy the sampler bag selection. This is 1 ounce each of Sevruge, Ossetra and Beluga, a pack of mini toasts, packed with ice in an insulated travel bag. It costs $65. Less than dinner for two at an expensive restaurant, and plenty of caviar for four. Add $13 for an ounce of American caviar, and you can have a caviar tasting party for four or six at less than $20 a person. Tasting caviar is fun. First-timers are always afraid they're not going to like it, and always astonished to discover this is not an acquired taste at all. Everybody loves fresh caviar.

Put caviar in the refrigerator (not the freezer) as soon as possible. Empty a few ice cube trays into a large tray or shallow baking pan and put that in the freezer. When you're ready to serve, open the jars and settle them down among the ice. Caviar should be cold.

When serving caviar, don't bother with all the fussy bits of chopped onion, hard-boiled egg yolk and capers. Caviar only became popular in Western countries in the early 20th century — all that stuff was added to disguise the fishy taste of old caviar and bad refrigeration. You don't want to hide the taste of fresh caviar.

To me, caviar is best eaten with a spoon. Don't use a silver spoon — it gives what Joel calls "a quick bitterness" to caviar. Stainless steel is fine, and so are gold-plated or horn caviar spoons. If you mention this article when you buy your caviar sampler, you will get a horn spoon free.

But, again to me, eating caviar with a plain white plastic spoon has more pizzazz. Don't gobble caviar, of course; take a quarter spoonful and crush it with your tongue against your palate. Part of the fun is the squirt of flavor.

Caviars taste and look different. Sevruge ($17 an ounce separately) is dark gray, the smallest roe and the saltiest. The salt is what enables fresh caviar to stay fresh though it's stored below 32 degrees; all caviar is salty, but it's a very slight salt, nothing like the dose you get with supermarket imitations. Sevruge is comparatively crunchy and has the strongest taste of all caviars.

"But," says Joel Assouline, poet of caviar, "it doesn't have that beautiful finish, that just glides through your mouth, of Beluga."

Ossetra ($23.50 an ounce) is larger, and yellowish —"Brown with golden highlights!" says Joel, and richer than Sevruge — and has a distinctive nutty taste. All first-timers are amazed and delighted to discover how easy this difference in flavor is to detect.

Beluga ($32 an ounce), the largest egg, is even richer than Ossetra, buttery, silkily smooth. There is nothing like the soft, creamy lusciousness of this spectacular stuff.

My pals and I tasted the American caviar ($13 an ounce) last, which I thought would be unfair. Actually it is amazingly good, very close to Sevruge in flavor and graininess. We all thought Beluga was absolutely the best.

"Well," says Joel, "caviar changes from year to year, like wines. This year Beluga is at its very best."

But my fellow tasters also thought that all these caviars were spectacular. A couple of carefully budgeting graduate students were delighted to discover American caviar. "We can afford this!" one said. "It's less than a bottle of bourbon. God, we've spent more money sending out for pizza!"

The Russians drink icy vodka with caviar; the French prefer Champagne. Both are delicious. Stick the bottle of vodka in the freezer an hour or so before drinking. To me, Champagne — real Champagne, from the Champagne region of France, not California or Spanish bubbly — tastes much better, and works better, too, as a marital (or extra-marital) aid. Try it and see.

Of course, you don't have to confine your caviar-tasting adventures to the homefront. Cafe Republic, the new burnished-gold establishment at the corner of 22nd and South, serves a full complement of caviars (all from Assouline & Ting) and an interesting array of vodkas and Champagnes as well. Tony Clark's lower-level caviar bar serves Caspian caviar (not from Assouline & Ting) and is open Wednesdays through Saturdays.